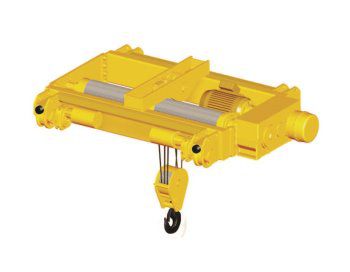 The Terminator Wire Rope Hoists
The Terminator is a top running double girder wire rope hoist that is CMAA class "D" rated for the most demanding applications.
The Terminator wire rope hoist offers superior quality and exceptional features. With larger capacities, more lifts and up to 60 hp for faster speeds.
Features Of Wire Rope Hoists
Mechanical Load Brake provides redundant braking for maximum safety (Advantage Series)
Trolley wheels hardened to 400 BHN.
Geared upper and lower limit switch and paddle type upper switch for maximum safety
True vertical lift
Continuous duty motor with cooling fins is oversized to ensure cool operation.
DC brake is designed for long life and quiet operation
8-push button pendant, lightweight and durable.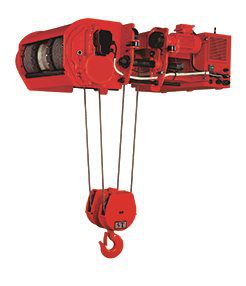 ELECTRIC WIRE ROPE HOIST – ADVANTAGE SERIES
Our most economical hoist series for 5 and 10 ton applications and most of them are available for quick shipment. Here's what we have:
5 ton and 10 ton Monorail Wire Rope Hoists
5 ton and 10 ton Top Running Wire Rope Hoists