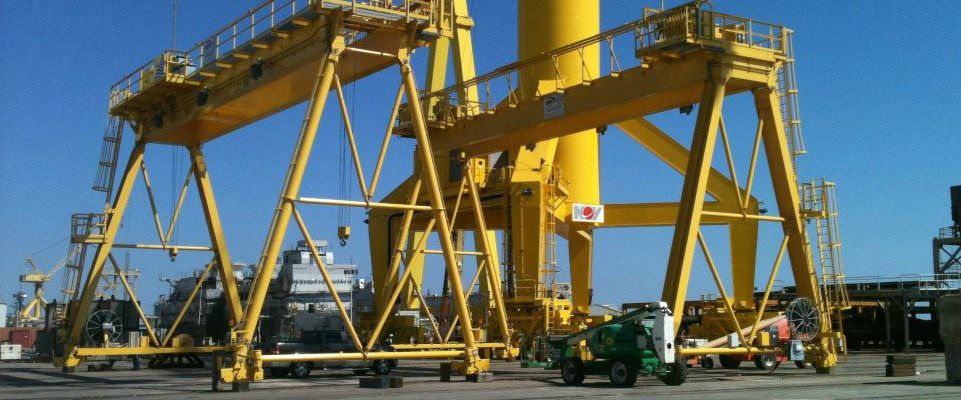 A gantry crane is supported by uprights that run along a rail at ground level. Gantry cranes are ideal for situations in which you have no elevated runway or top rail to run your crane along.
Custom Gantry Cranes
As a leading gantry crane manufacturer, we can develop a custom gantry crane solution that meets your needs–be it a semi-gantry crane or a double leg gantry crane.  Our years of industrial crane design expertise and manufacturing experience ensures that your crane will be of the highest quality and will be a sound investment for years to come.
Double Leg Gantry Cranes
Double leg gantries (both legs run along a rail at ground level) are often used in loading docks and shipyards.
Semi Gantry Cranes
Semi-gantries are gantries in which one leg runs along a rail at ground level and the other end of the bridge is supported by a truck that runs along an elevated runway. Semi-gantry cranes are ideal for warehouses and manufacturing buildings that need part of their bay for purposes other than a crane.
For a full understanding of our offering, please visit our Crane Photo Gallery to view some of our past projects
Contact Us
Ace World Companies can build a crane that will meet your needs. Give us a call today to discuss your crane requirements 800-431-4223 or sales@aceworldcompanies.com